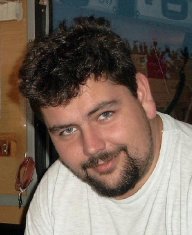 My name ist Oliver Dröse, being called Olli by friends and on the radio. Born in 1975 I grew up in Schwedt, a city about 100 km north-east of Berlin, Germany's capital city, right at the German-Polish border. Had an early interest in electronics and build my first transistor based 0-V-1 RX to receive medium wave broadcasts being 6 years old under the supervision of my father Frank (sk) who worked as a radio/TV technician in Schwedt's hospital.
My father had been an SWLer in his younger years so by co-incidence we once found a few strange looking postcards in his stuff. He started to explain what QSLs are all about – fascinating stuff for a then 10 years old boy. When learning English at school it turned out that my teacher was actually a licensed HAM, Dieter – Y41BE, now DL2BQD. In one of his lessons he talked about amateur radio and my eyes started glowing again. He invited a mate and me to visit the local clubstation. While there he demonstrated contacts in CW & SSB within Europe. I was all hooked! I became a member of Schwedt's local radio club and soon got my SWL ticket as Y41-27-E (yes, you had to do an exam to get an SWL "call" back then). Using an old Russian low voltage tube radio I started exploring the amateur radio bands and sending out SWL cards around the world.
Times were changing, the GDR was starting to break down eventually and people sure had other things on mind than amateur radio. That meant there were no license courses locally anymore so I took the plunge and did a correspondence course to get my ticket. Not cheap, had to work for a few weeks during holidays to get the money in but I was really keen to do it. About half a year later I did the license exam and got my first VHF license, DG8BQA, being 16 years old. About a year later I went there again to do my morse code exam (still required back then) and became DH8BQA. Still using that callsign today.
For my apprenticeship I finally left Schwedt and after working in Mannheim, Bonn and Wuppertal I finally ended up in Cologne for my job about 15 years ago. Have done quite a bit of portable and mobile ops down here in the past as I do not get an antenna permit where I live. Nowadays I am using a remote station to access my station back home near Schwedt. Getting older you get more lazy, that's for sure. 😉
I am mostly interested in propagation studies, therefor I'm a big fan of the 10, 6 & 2 m amateur radio bands. DX there is normally quite challenging but being there at the right time and place there can be wonderful surprise openings via Tropo, Sporadic-E, Aurora, a.s.o. and you will be able to work real DX with ease. And have you ever heard a VHF signal bouncing off the moon or a meteor trail? Really fascinating stuff. 😉
Besides this I love contesting! Be it on VHF with my mates of DFØTEC/DMØY and/or DFØFA on our local hilltop or on HF using a private club station we built up during the last few years. You will certainly find me in the bigger contests like CQ WWDX, WPX, etc. I usually go the 2 x 700 km to the station to do the big ones. That does cost me quite a bit of my available holiday time but hey, I like meeting my mates up there and doing radio together. Have done all bands and power classes from QRP to HP but have been sticking to high power during the last few years. It's just the thrill of a fine run rate … did you ever do a 200 QSOs/hour? Adrenalin at it's best. 😉
Available (holiday) time permitting we try to go DXpeditioning from time to time. Have done a few DX & IOTA ops as well as several VHF grid square expeditions in the past, P4ØFA being the latest in 2016. Really like the Baltic states but also keen to go elsewhere. 😉
Besides being on the radio I enjoy some electronics developments. Digged deep into programming PIC microprocessors and realized a few nice projects already (see elsewhere on this website). When time permits I do some article writing, too, so a few of my designs were already published in the German FUNKAMATEUR magazine. Always glad if my stuff is useful for others, too.
So, that's it "about me" for the moment. Might be I forgot a few things but can still add later on. 😉 Hope you enjoy the website and if you have any comments please let me know by email to the address below.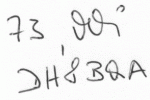 15.04.2016
Impressum:
Oliver Dröse
Philipp-Zorn-Str. 67
50735 Köln