Seems we got a golden October again, just a few weeks delayed. 😀 I was a bit late to the "tropo party" on Saturday. Heiko, DG1BHA, had already worked half a dozen stations from Belarus but when I switched on only EW7HA from KO53 was still there, nice DX nonetheless! Quite good activity in general, worked a lot of SP stations while beaming east. G4KUX was a nice surprise heard with the backside, the only G on Saturday and according to the tropo forecast for Saturday rather unexpected! Worked YO5AVN in the evening but the QSO took quite some time, no tropo enhancement into that direction, it probably was "normal" airplane scatter.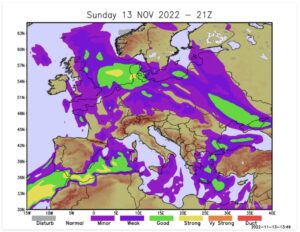 After the QSOs in WAE-RTTY on Sunday I switched back to 2 m. Propagation had shifted, we now had some tropo dir west, i.e. into the UK. Not very stable, signals in & out, but a few nice QSOs could be made. Nice to work Jim again! 😉
This morning just two contacts into Scotland again. Then propagation shifted to the north-east, good to catch OH1NG besides two SMØ's from JO99 at about 700 km distance (they can be worked every day but now also had nice signals, hi).
These are the contacts made with QRB > 800 km:
------------------------------------------------------------------
   DATE    TIME  CALLSIGN    LOCATOR    BAND   MODE     PRO.   QRB
------------------------------------------------------------------
12/11/2022 09:58 EW7HA       KO53IQ     2 m.   FT8      TR    1092
12/11/2022 11:01 G4KUX       IO94BP     2 m.   FT8      TR    1063
12/11/2022 18:46 YO5AVN      KN17WW     2 m.   FT8      TR     897
------------------------------------------------------------------
13/11/2022 16:33 G4KWQ       IO92AQ     2 m.   FT8      TR    1082
13/11/2022 16:35 GM4FVM      IO85WU     2 m.   FT8      TR    1092
13/11/2022 16:38 G4FVP       IO94FM     2 m.   FT8      TR    1041
13/11/2022 16:42 GØLTG       IO81RF     2 m.   FT8      TR    1159
13/11/2022 16:48 G3XDY       JOØ2OB     2 m.   FT8      TR     885
13/11/2022 16:55 G4DDK       JOØ2PA     2 m.   FT8      TR     880
13/11/2022 16:56 G4TRA       IO81WN     2 m.   FT8      TR    1120
13/11/2022 17:08 2EØFQT      IO93QN     2 m.   FT8      TR     983
13/11/2022 19:15 G8JLY       IO82WG     2 m.   FT8      TR    1102
13/11/2022 19:16 GØJDL       JOØ2SI     2 m.   FT8      TR     856
13/11/2022 19:52 MØXVF       IO94EQ     2 m.   FT8      TR    1047
13/11/2022 20:15 GW7SMV      IO81LN     2 m.   FT8      TR    1181
13/11/2022 20:45 G4HGI       IO83PL     2 m.   FT8      TR    1121
13/11/2022 21:02 G7DCT       IO93GT     2 m.   FT8      TR    1036
13/11/2022 21:15 2EØFQT      IO93QN     2 m.   FT8      TR     983
13/11/2022 22:10 GØBNR       IO92WL     2 m.   FT8      TR     964
13/11/2022 22:37 GØXDI       IO91RQ     2 m.   FT8      TR    1011
------------------------------------------------------------------
14/11/2022 08:36 GM4FVM      IO85WU     2 m.   FT8      TR    1092
14/11/2022 10:03 MMØZBH      IO86IB     2 m.   FT8      TR    1167
14/11/2022 10:15 OH1NG       KP1ØPL     2 m.   FT8      TR     979
------------------------------------------------------------------

Also worked a lot of PA/ON stations in the range of 500 to 700 km (especially yesterday), most of them running just 50 or 100 watts into short yagis or even verticals according to their qrz.com profiles! All in all about 120 QSOs made during the last two-and-a-half days …