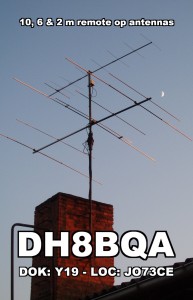 I had planned to go the 700 km to our contest QTH (JO73ce) to participate in ARRLDX-CW this year. Due to QRL on Monday I could not take the day off to drive back so I had to cancel my plans. Nevertheless I wanted to hand out a few points at least so was QRV with my small remote station setup: Icom IC-7100, Elecraft KPA500 + small 4 ele Yagi @ 8 m height. It is completely separated from the rest of the station to avoid trouble with local usage by other OPs … but for the moment only 10, 6 & 2 m are available remotely, so it had to be 10 m. 😉
What can I say? Conditions were quite nice on Saturday. So my plan of doing maybe 50 QSOs each day had to be revisited. 😉 Saturday concentrated on working as many US states as possible (full sweep anyone?) so almost all day just S&P'ing. Finished with just missing DC, DE, KY, OR, WY. I had heard OR & WY already but pileups were too big to spend much time there. Caught DE & KY on Sunday but due to Aurora the condx were much worse on Sunday so never heard any OR or WY again. Also never ran across a DC, was there nobody QRV on 10 m this time? On the other hand I sometimes felt like participating in the Maryland QSO Party … 😉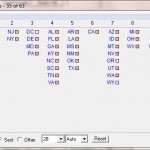 Band opened 11.15z on Saturday here with VY2ZM & VE9AA, the usual suspects. 😉 Closed around 19z after a nice hour running mid-west and west coast stations. Sunday was distinctly worse with 12:30z opening and 18z closing and no west coast at all, i.e. California. Just a very weak WA and a few likewise weak AZ stations. Concentrated a bit more on running on Sunday just for the fun of it. Finished the weekend with 517 QSOs and 55 mult's (see left). Also had a few breaks for coffee and telephone in-between. So about 14 h spent on & off the radio.
Did about five times as much as I originally wanted to do. 🙂 Boy, I wish I could have been at the contest QTH. Our 6 ele OWA @ 20 m height gives about 2 s-units better signals than the small remote antenna mounted much lower. And the K3 would have coped much much better with all the contest QRM than the IC-7100 did … But after all still a lot of fun, it's all about using and enjoying 10 m as long as it still lasts, isn't it?! 😉 As there are no single band assisted categories in ARRLDX this single band effort goes into the all band unlimited category. No CAT control, no skimmer, but a few cluster spots at times so …
Will be at the big station for ARRLDX-SSB in two weeks, let's keep fingers crossed for condx to return! Hope to hear you then!