I've been active on the VHF bands for almost 30 years now and certainly experienced one or another great VHF-DX day. But what we experienced today certainly deserves the definition as "Best VHF-DX day ever"! The 6, 4 & 2 m bands were virtually open all day long! While it happens every now and then on 6 m it is an absolute exception to see 144 MHz open almost continously between 9 and 24 o'clock UTC! For my German readers Bernd, DF2ZC, wrote quite a nice summary for the FUNKAMATEUR news pages.
I'm really glad I decided to go the 400+ km from Hamburg to Schwedt on Thursday evening after QRL already. Spent the night at my mom's, went shopping for the weekend (groceries for the WPX-CW contest) Friday in the late morning and then went the 20 km to our station out of town to prepare for the weekend, i.e. install a separate PC for the Flexradio, a.s.o.
4 m opened nicely into Spain up here just when I was done. I had seen the 2 m ES openings around Europe, of course, so was monitoring 144.174 FT8 as well as 144.300 SSB in parallel. While the main direction was to the South-West, i.e. Iberia, 4 m opened occasionally into other directions, too. EA3AGB was a new square while E76BV and ZA/IW2JOP even provided two new countries! 😎 The band stayed open all day long. I'm justing forcing myself to go to bed now (23z = 1 o'clock local time!) and there are still signals on the band! Simply amazing …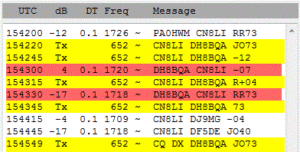 2 m opened around 14z up here. Plenty of activity from Spain and particularly pleasing lots of SSB activity, too! With such a big opening it's just much more efficient on SSB. I called CQ myself several times when running out of stations to work and really enjoyed the small pileups. 😎 Of course FT8 makes sense when signals are weak, i.e. you're out of reflection focus or working double hop. I did so every now and then hoping I would catch one of the two 7X stations from Algeria for a new country. Unfortunately never heard them but instead I caught CN8LI from IM63nx – wow! An amazing 2.706 km and probably a double hop QSO looking at the map above. Distance is much too far for one single hop and there were no tropo enhancements along the path but ES clouds quite favourable for a double reflection.
While monitoring FT8 I was secretly hoping to maybe catch D4VHF, too. Yes, that's the Cape Verde Islands deep in the Atlantic Ocean, 5.300 km away! Oh well, good ol' BQA is going crazy now, you might think. But hey, there was double hop, best ES conditions ever, and D4VHF already working into Southern and Western Europe! So clouds just needed to be aligned favourably and we would have a chance! And indeed, he was worked in South-DL and copied in Poland not too far from here! Unfortunately nothing overhere but it was only just after the opening I got to notice he was not on .174 but on another frequency aligned in the ON4KST chat trying with the big guns from Europe. Oh well, I was not logged in so couldn't know, I would sure have monitored for such a once in a lifetime chance! But anyway, still the best ES opening ever! 4 hours on 2 m continously up here, then again for a few minutes half an hour later. Imagine to have such an opening during July contest! 😎
Now what about 6 m? To be honest I completely ignored it. Uwe, DL3BQA, was quite active from our station. Lots of double hop DX there, too. Lots of new squares possibilities, but I kept concentrating on 4 & 2 m. It was only when I saw good friend Steve, PJ4DX, spotted on 6 m SSB that I switched over and indeed, could copy him clearly with 5/3. Unfortunately I couldn't raise him with 100 watts. I had already rebuilt my station for the contest so no amp capable of 6 m available without too much hassle. So went over to the other shack and started Uwe's (who had left earlier) TRX and PA again but until the amp had warmed Steve's signal had vanished. What a pity! Kept the gear running but decided half an hour later to switch it all off as I was still busy on 4 m. Well, VO1FOG was CQing on 50.110 SSB with a great signal and of course I couldn't resist to give him a call. So I did one QSO on 6 m, too. 😉
To sum it up: Besides the new ones already mentioned above I even worked five new squares on 2 m: IN81, IM97, IM63, IM68, IN92 (#592). Great distances worked. Great experience I'll surely remember for the rest of my life (and I think many others, too).
Here's the list of worked stations sorted by band:
------------------------------------------------------------------
TIME   CALLSIGN      LOCATOR   TX    RX    BAND   MODE  PROP.  QRB
------------------------------------------------------------------
21:17  VO1FOG        GN37IO    59    56    6 m.   SSB   ES    4643
------------------------------------------------------------------
12:57  EA5FQS        IM99TL   -05   -18    4 m.   FT8   ES    1883
12:59  EA3HUI        JNØ1MM   -07   -09    4 m.   FT8   ES    1627
13:48  EA2CCG        IN92AO   +07   -06    4 m.   FT8   ES    1677
13:54  EA4ESM        IN8ØDK   -09   -16    4 m.   FT8   ES    1956
13:56  EA3GP         JNØ1SF   +06   -04    4 m.   FT8   ES    1632
13:58  EA3WD         JNØ1XK   -06   -23    4 m.   FT8   ES    1595
14:03  EC5W          IM98QG    59    59    4 m.   FT8   ES    2010
14:54  EA1W          IN73EM    55    53    4 m.   SSB   ES    1807
16:51  ZA/IW2JOP     KMØ9AU   +12   +02    4 m.   FT8   ES    1547
17:14  GJ6WRI        IN89VF   +03   -05    4 m.   FT8   ES    1222
17:38  E76BV         JN83VG   -04   -03    4 m.   FT8   ES    1133
17:55  EB3JT         JNØ1UI   -24   -20    4 m.   FT8   ES    1613
18:07  EA5TT         IM99SL    59    59    4 m.   SSB   ES    1887
19:15  CT1EEB        IN5ØQR    59    59    4 m.   SSB   ES    2201
20:58  EA6SX         JM19IK   +12   +04    4 m.   FT8   ES    1760
21:35  EA1GCN        IN73DN    55    55    4 m.   SSB   ES    1809
21:36  EA1W          IN73EM    55    55    4 m.   SSB   ES    1807
21:57  EA3AGB        JNØØGQ   +06   -14    4 m.   FT8   ES    1728
21:59  EA5WO         IM99SK   +05   -08    4 m.   FT8   ES    1891
22:07  EA2BFM        IN83MG   -08   -18    4 m.   FT8   ES    1675
22:21  CT1BXT        IM59PF    55    52    4 m.   SSB   ES    2330
22:25  EC1AJL        IN73CI    59    59    4 m.   SSB   ES    1829
------------------------------------------------------------------
14:06  EA7KZ         IM87CS   -03   +03    2 m.   FT8   ES    2202
14:07  EA1BFZ        IN81SS    59    59    2 m.   SSB   ES    1774
14:08  EA4CZV        IN8ØDL    59    59    2 m.   SSB   ES    1952
14:08  EA3DHR/1      IN81JS    51    59    2 m.   SSB   ES    1814
14:09  EA1BFZ        IN81SS    59    59    2 m.   SSB   ES    1774
14:13  EA7BHO        IM87DD   +08   -02    2 m.   FT8   ES    2256
14:30  EA5IEA        IM97JV   +07   +16    2 m.   FT8   ES    2071
14:35  EA5AJX        IM98KU    59    59    2 m.   SSB   ES    1976
14:37  EC5W          IM98QG    59    59    2 m.   SSB   ES    2010
14:55  EA5IEA        IM97JV   -05   -09    2 m.   FT8   ES    2071
14:59  EA5IDZ        IM97JW   +04   -01    2 m.   FT8   ES    2067
15:03  EA5WU         IM99WU   +12   -07    2 m.   FT8   ES    1836
15:03  EA3EVL        JNØØHR    59    59    2 m.   SSB   ES    1720
15:07  EA3ABK        JNØ1OK    59    59    2 m.   SSB   ES    1627
15:08  EA3AGB        JNØØGQ    59    59    2 m.   SSB   ES    1728
15:09  EA5EF         IM99SM    55    55    2 m.   SSB   ES    1883
15:12  EA3GPK        JNØ1PD    55    59    2 m.   SSB   ES    1651
15:16  EA7HLB        IM76OP   -16   -12    2 m.   FT8   ES    2355
15:19  EB5GC         IM97JX   -01   +05    2 m.   FT8   ES    2063
15:31  EA7KI         IM77OV   +06   -12    2 m.   FT8   ES    2239
15:35  EA5DIT        IM99CD    59    59    2 m.   SSB   ES    1979
15:43  CN8LI         IM63NX   +04   -07    2 m.   FT8   ES    2706
15:59  ISØANY        JN4ØGR    59    59    2 m.   SSB   ES    1449
16:01  EA6AAU        JM19JK    59    59    2 m.   SSB   ES    1757
16:02  EA6SX         JM19IK    59    59    2 m.   SSB   ES    1760
16:07  EA5IPM        IM98QG    59    59    2 m.   SSB   ES    2010
16:14  EB5BQC        IM98OL   -22   -04    2 m.   FT8   ES    1997
16:23  EA5EY         IM98OL    59    59    2 m.   SSB   ES    1997
16:24  EA5DF         IM99RM    59    59    2 m.   SSB   ES    1886
16:27  EA3KE         JNØØIR    59    59    2 m.   SSB   ES    1716
16:29  EA3CAZ        JNØ1SE    59    59    2 m.   SSB   ES    1636
16:33  EA3NG         JNØ1OC   -05   -06    2 m.   FT8   ES    1659
16:36  EA5W          IM97KX   -04   -12    2 m.   FT8   ES    2060
16:40  EA5NB         IM99TL   +02   +02    2 m.   FT8   ES    1883
16:51  EB5HRX        IM99TL    59    59    2 m.   SSB   ES    1883
17:13  EA4C          IM68MU   -04   -19    2 m.   FT8   ES    2266
17:16  EC1KR         IN7ØOQ    59    59    2 m.   SSB   ES    1991
17:17  EA3DHR/1      IN81JS    59    59    2 m.   SSB   ES    1814
17:18  F2CT          IN93GJ    59    59    2 m.   SSB   ES    1583
17:21  EA1BYA        IN7ØWW    59    59    2 m.   SSB   ES    1934
17:23  EA4BPO        IN8ØEJ    59    59    2 m.   SSB   ES    1955
17:26  EA2BD         IN92ET    59    59    2 m.   SSB   ES    1641
17:31  EA2LU         IN92ET    59    59    2 m.   SSB   ES    1641
17:31  EA4LO         IN8ØJM    59    59    2 m.   SSB   ES    1923
17:32  EA4BU         IN8ØCF    59    59    2 m.   SSB   ES    1978
17:32  EA4BFK        IN8ØAM    59    59    2 m.   SSB   ES    1961
17:33  EA4BVW        IN7ØXF    59    59    2 m.   SSB   ES    1991
17:34  EA4JJ         IN8ØAK    59    59    2 m.   SSB   ES    1969
17:36  EA4EWJ        IN8ØBM    59    59    2 m.   SSB   ES    1957
17:37  EA4ESH        IN8ØSG    59    59    2 m.   SSB   ES    1907
17:41  EA4BX         IN8ØHI    59    59    2 m.   SSB   ES    1946
17:42  EA4GAX        IN8ØCP    59    59    2 m.   SSB   ES    1942
18:20  EB1DJ         IN52MO   +02   +10    2 m.   FT8   ES    2074
------------------------------------------------------------------