A few month' ago I received a phone call by Oliver, DL2ARD, asking if I would like to join their team during this year's IOTA contest as they were still looking for another good operator. I've known Oliver for over 25 years now, we've meet probably a thousand times on the bands and also eye-balled numerous times during the years at ham fairs, BBQs, a.s.o. You can also find quite a few references about him here in the blog for contest experiences. But we never managed to be active together so far. He's a great guy so I felt honored to be asked to join and said yes, of course. 😎
Oliver arrived a week before the contest on Rügen Island already and installed a lot of additional antennas, all the equipment, etc. Their yearly IOTA activity is hosted by Andreas, DL1KZA, and his father Burkhard, DL3KZA, plus families on the property of DL1KZA. During the years they've installed a number of towers which either hold permanent antennas like the big Optibeam or can be used for additional antennas like the 3 ele 20 m, 6 ele 15 m and 4 ele 10 m that Oliver, Andreas & Burkhard errected before the contest. A rotatable dipole for 40 m and a dipole for 80 m SSB (besides the 80 m CW groundplane permanently there) rounded off the great antenna setup.
I arrived late Friday evening and met the whole team for the first time at Burkhard's after they had finished barbequeing. Besides Oliver, Andreas & Burkhard team members were Falk, DK7YY, whom I've been knowing for ages, too, as well as another Oliver, DJ9AO, and Jürgen, DL7UVO. The team placed #1 World M/S HP from that location in 2014, 2016 & 2017 so expectations were quite high! This year we were going to use DK3R as a new club/contest call with IOTA reference EU-057.
The contest itself was great. Our set up consisted of a running as well as a multiplier station which were manned continously. This way we managed 600 QSOs during the first 3 hours already. 😎 We were also lucky to have a bit of Sporadic-E every now and then gaining at least the needed multipliers on 10 m. Of course 20 & 40 m proved to be the money bands at this point of the sunspot cycle. Unfortunately 20 m closed quite early within Europe (you need to work all the EU-005's, eh?) but also provided a highlight with working FK4QX via long path on 20 m in the middle of the night. Sunday morning was a bit slow when 80 m was already closed but 20 m not yet open so we could only use 40 m for a while. Running with such a superb setup was a great experience but also chasing multipliers was lots of fun! We tried to make sure that all OPs got their share of both. 😉 This resulted in almost 2.800 QSOs: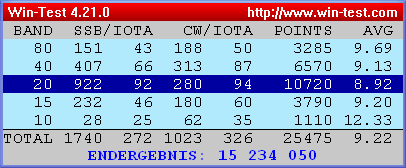 Overall we were quite happy with the result. It's about 1.5 million points higher than last year and 1.5 million points lower than the all time high of 2016. Keeping fingers crossed it will be enough to win the World again. 😉
Thanks for the great experience, guys! It was a pleasure to operate with you and I'm already looking forward to the next opportunity. 😉