Another WPX-SSB is done. Although not planned I managed to take Friday off and drive the 700 km to the station the night from Thursday to Friday already. Was certainly the better choice than driving after QRL on Friday evening arriving Saturday morning and then starting right into the contest. 😉 So I had the chance to do the station setup without hurry and also spend some time with Uwe, DL3BQA, discussing strategies, etc.
As I had the choice of band this time (we usually do 2 single OP entries as 2 guys is simply not enough for a serious Multi-OP entry) it was back and forth between 15 and 10 m for me. Conditions were quite bad during the last few days and weeks. Even on Friday there was no propagation to the U.S. at all. I nevertheless choose to go for 10 m (yes, the addictive thing

) hoping that the high speed solar wind stream expected to hit the Earth this weekend (received the warning email by Australian IPS Space Forecast Centre just Friday evening, too) might have a small positive impact (as already seen several times in the past) before condx would really go south afterwards. And of course this could be the last contest where 10 m is usable at all! Me on 10 m meant Uwe was going to do 15 m as DMØY where condx should be much better. After all we had sun spot numbers > 100 and a solar flux of almost 140 was not too bad either. But A index was up to 16 … ouch! My last WPX-SSB 10 m entry from Germany was 2012 with comparably bad condx so about 700-800 QSOs should be possible nevertheless.
Saturday
Got up at 5:20z and the band already showed first signs of live. First QSO was with 9N7CC. Seems the Polish guys installed a nice setup there on "the roof of the world". First hour brought some 35 search & pounce QSOs which is a little more than to be expected normally. Activity was quite good but signals could have been better. Backscatter was rather weak, too. Also no direct path JA opening. Worked JA7OWD on sidescatter beaming 90° (direct path would have been 45°) around 9z. Only two ZL's worked, too. ZM2IO later "complained" I did not hear him when he called me. 🙁 Sorry Holger, usually my RX is very good compared to many others and I am able to dig out all the weak guys. This time condx were no good to ZL …
At 10z it was as if somebody had switched on the ionosphere! Suddenly a very good short path opening into JA although already totally dark overthere. Managed to work 37 JA's in the following 2 hours. Sorrily not more, they certainly already QSY'ed down to 15 and/or 20 m by then. Fascinating stuff as this is normally the time when JA would open long path. Not so this time … Seems the old saying stays true: There ain't no meters like ten meters. 😉
At 12:30z again VE9AA opened the band into North America. Good to chat with you for a few moments, Mike, always much appreciated. 🙂 And yes, good to see NA open at all! Fearing the worst I was really positively surprised! Of course it was not as good as during WWDX-SSB last year but still nice with numerous QSOs into the East Coast. There were just a handful of Mid-West stations and only a few (but strong!) guys from the South-West, i.e. Southern California and Arizona, making it into the log. Nothing from the North-West, though. The band closed around 19:30z direct path (300-320°) but was still usable on scatter beaming skewed path to 270° (Caribbean) for another hour! Interestingly also South American stations were strongest beaming 270° instead of the usual 240° until the band finally closed exactly 21z! Seems there was a really nice scatter point. 🙂 It was superb for Europe on backscatter, too. Even Frank, DL8LR, running 5 watts but a good beam was a true 57 on the K3's calibrated s-meter! 😎
What put me down a bit on Saturday was that I was constantly about 10-20 QSOs ahead of DK3T (DO9EE & DK3EE operating) until the U.S. opening started. Checking back on them short before the band closed they were ahead almost 500 QSOs! Ouch … 🙁 Yes, my run rates were not too high although I had clear frequencies (asked a few callers) and also changed regularly when recognizing rate was dropping too much but I really wondered what I might have done wrong? There is a bit of station difference, yes, more aluminium in the air at Tom's station and a bit more power and surely better location 400 km west but a commanding lead of 50% on QSO totals after the first day … wow! Seems they had much more luck with the NA opening. Went to bed with 930 QSOs in the log …
Sunday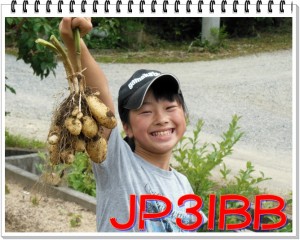 Band started a little later on Sunday. Amazingly the first signal heard was JA7OWD at 5:50z! This time skewed path beaming 120° (i.e. A6, A7, etc.) instead of the usual 45° (no signal there). They were just above the noise but still! But it was not until 6:15z when I did the first QSO so almost an hour later than Saturday. Only made 9 QSOs during the first hour. Not a good omen. But 12 years old JP3IBB called at 7:30z with a solid 59+10dB signal, wow! Band was open to JA for a bit over 2 hours but still not too many stations in the log. Seems it was rather only the big guns who made it but most of them were really strong! Good thing is the noise into direction Japan is completely gone (although we never found out what it was!) so no limitations on that matter any more. 🙂 Added a few more JA's in a small long path opening after 10:30z, too. So 87 JA's in total. Yes, not too many (with good condx we usually have some 250-300 in the log) but still better than expected when deciding for 10 m on Friday afternoon. 😉
Sorrily there was no North America opening at all on Sunday afternoon, complete absence. Also backscatter condx detoriated constantly so it was quite a challenge to pull out all the weak guys calling in although there were some really strong backscatter signals until late into the evening. Maybe the weak guys were just running low power or QRP and simple antennas? I had to constantly check for the best backscatter point to make the most out of it. Luckily activity from South America was extraordinarily high with almost 50 LU's and 140 PY's worked (usually it's only about 1/4 of those figures if at all). So that made up for it a little bit.
At 16z a weak W5BN called in and I had hopes the band might now open up into the U.S. but it was not. A quick check on antenna direction revealed he was best skewed path dir 260° on scatter. Eight minutes later K6ND (MA) called in for a dupe. Maybe he just wanted to see if the band was open but he, too, was only in skewed path. He was rather loud at s7. Wouldn't believe my ears when N6ENU from Southern California called me 16:30z. He was very weak but we finally made it after 2 or 3 minutes digging deep into the noise. Great if you have a passionate VHF weak signal guy on the other end who simply knows how to work scatter QSOs. 😉 20 minutes later WB5JHY and VO1SO called on scatter, too, but that was it: just 5 QSOs into continental North America and all within one hour on skewed path. For comparison Caribbean stations were rather loud!
17 to 20:20z, before the band went completely dead, was not too productive anymore but still allowed another 120 QSOs. Small surprise was 19:05z when Mike, VE9AA, called again just to tell me he could hear me. Quick check confirmed he was just coming in skewed path, too. And even that seemed to be very selective as there were no other callers.
Good news: until the band closed I managed to lower the advantage of DK3T to something like 260 QSOs. Seems Sunday was a bit better for me. 🙂 Not sure if they worked some more QSOs afterwards (the band closes a little later for them due to their more westerly location) but that difference is quite okay for the equipment and antenna differences. Maybe we should also go for at least 3 antennas per band in the future overhere. If we only had enough space and money … 😮
Conclusions
Unexpectedly good conditions on Saturday (positive phase before solar storm hitting Earth) and rather bad on Sunday (negative impact of solar wind). Made about twice as many QSOs as anticipated. Need more hardware to seriously compete with some certain guys. 😉
Some really bad splatter signals on the band(s) again. UA9MA being 59+20 was +/- 20 kHz wide. When I told him he thanked me, retuned his PA and anticipated it would be better. Yes, it was, he was then "only" +/- 15 kHz wide! CN3A had a really wide signal (+/- 15 kHz), too. Just to name the two worst offenders. 🙁 On the other hand there were some really loud but exceptionally clean signals, too. Yes, you can tell the difference between a K3's (or other similarily good rigs, I'm not fixated on the K3) and an FT-1000MP's or "modern" ICOM's transmitting signal …
Taking the splatter issues aside I had lots of fun again! Detailed SH5 analysis is available here. Looking forward to WPX-CW now …
                    CQWW WPX Contest, SSB

Call: DH8BQA

Class: SO(A)SB10 HP
QTH: JO73ce
Operating Time (hrs): 30

Summary:
 Band  QSOs
------------
   10: 1611  (incl. dupes)
------------
Total: 1576  Prefixes = 865  Total Score = 2,930,620

Club: Bavarian Contest Club

BTW: Uwe made about 1200 QSOs on 15 m on Saturday and another 400+ on Sunday. Although condx on Sunday were not as bad on 15 m as on 10 m he simply had some bad luck as he lost his run QRG a few times and couldn't find a new one. Also rates were not too high on 15 m. Seems we need some more aluminium on that band, too. 😉