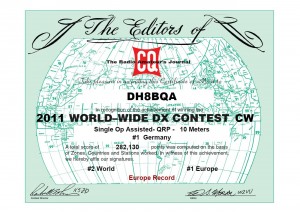 Now that another week of QRL is gone and the weekend is here maybe it's time to sum up my this year's WWDX CW contest entry between packing moving boxes. 😉 Condx were excellent so my choice of band had to be 10 m, of course. As a reader of this blog you know I'm an absolute 10 m addict, even in sunspot minimum. Back in 2011 when we built our big 6 ele OWA Yagi I took part in the (then still new) SOSB10 QRP (A) category aiming for the world record. Sorrily SU/HA3JB had decided to do the same thus it was "only" 2nd place world and a new European record (see left). That did indeed hold for 3 years but is going over to EA4KR now as per the preliminary results. Congrats Julio!
This year I was running HP (A) and had a really great time! Last year I made almost 1.400 QSOs with the same setup and quite nice condx and didn't think I would ever be able to do much more. Condx are winter-typical at the end of November compared to WWDX-SSB in October meaning about 2-3 hours less time when the band is open. That is cutting down QSO totals, of course. Another "problem" that arises from the later time in year is there is no common window with zone 1 (KL7) anymore, likewise for zone 31 (KH6) on shortpath. Even with great conditions the band simply closes an hour too early overhere (and opens an hour to late overthere). Thus if all goes well only 38 zones are workable. Z31 could be worked as number 39 via longpath but I had no luck this time.
Last year certainly nobody would have thought of propagation still being as good as it was now, yours truly included! After the SSB leg I'm sure almost everybody was hoping for similar condx in the CW leg and keeping all fingers crossed they had, yours truly included! And yes, we were indeed lucky! 😉 I went to bed Saturday evening with 1.030 QSOs, 148 DXCCs and 38 CQ zones worked. That's been a plus of 300 QSOs compared to last year. Wow!
After having had such a great first day I did check the CQWW records page and saw that the German category record would possibly be in reach. Some 1.800 QSOs and a few more multipliers would be needed to break it. *That* was my big motivation for the second day! Unfortunately conditions went down quite a bit on Sunday. There was Aurora in the North (with VHF QSOs done just 500 km north of my location) and distorted conditions. The German Aurora warning beacon DKØWCY showed K=4 and A=14, ouch! Although sunspot numbers as well as solar flux were still high it meant the band just opened three quarters of an hour later into North America and closed more than an hour earlier than Saturday. Not to speak of almost no west coast QSOs. This did cost me about 100+ QSOs which would have been needed to surpass the German record including some reserve for the log checking process. 🙁 So after all my final result of 773k points just scratched the current 777k record of Stefan, DL1IAO (a great OP who won 3rd place in this year's WRTC by the way). Oh well, maybe in 9-10 years again. 😉
Despite not breaking the record I'm really satisfied with the result! I would never have thought it would be possible to do almost 1.800 QSOs (including dupes) being SOSB and taking into account I am an average CW'er at best. I definitely recognized that the small CW pileup trainings I did operating special event station DM5ØPCK every now and then during the last few weeks & month' helped a lot with my CW abilities. I'm also proud of myself having surpassed all the other German big guns like DK3T with DK3DM (big station with 3 antenna systems), DK2GZ, DL5CW, etc., all really great OPs! DK3T's multiplier total didn't look like being assisted although he first posted his result as being (A). Certainly just an error, meanwhile it is listed as non-assisted on 3830 as well as CQ's preliminary results page. Even with different categories I'm still proud of my performance compared to DK3T as he had just 80 QSOs more. Taking the station size difference and Bud's CW abilities into account I am more than happy with my results. Yes, DK3T *is* a kind of benchmark for me on 10 m as you might have recognized in past blog entries already. 🙂 Other benchmarks are the big German M/M stations: DR1A had just 20 QSOs more than myself with an almost identical multiplier total while DFØHQ had even less QSOs and mults than myself! Both have a lot more aluminium in the air than me. Seems I did a few things right. 😉
So here's the final result. As usual I put a detailed SH5 analysis online, too.
                   CQ Worldwide DX Contest, CW

Call: DH8BQA

Class: SOSB(A)/10 HP
QTH: JO73ce
Operating Time (hrs): 26.5

Summary:
 Band  QSOs  Zones  Countries
------------------------------
   10: 1755    38      153
------------------------------
Total: 1755    38      153  Total Score = 772,786

Club: Bavarian Contest Club