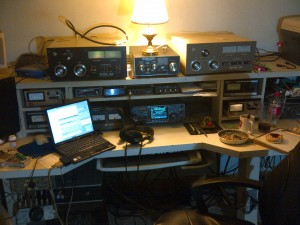 Just a quick note re my WPX-SSB entry. Will try to write a more detailed report during the next few days, time permitting …
Many many thanks to Carol, N2MM, for inviting me to use her station during WPX-SSB after I had spent a week on business in Boston, MA (and my first visit to a foreign dentist, but that's another story

). So flew down Friday afternoon to Philadelphia, PA, where Carol picked me up for transport to her QTH in NJ.
Another big thank you to Norm, W3IZ, for lending the club call NT3S for use during the contest. It sure helped to keep the rate a little up at times. 😉
                    CQWW WPX Contest, SSB

Call: NT3S
Operator(s): DH8BQA
Station: N2MM

Class: SO(A)SB10 HP
QTH: NJ / FM29
Operating Time (hrs): 24

Summary:
 Band  QSOs
------------
  160:     
   80:  (4)
   40: (34)
   20: (47)
   15: (22)
   10: 1649
------------
Total: 1618  Prefixes = 881  Total Score = 3,950,404

Club: Bavarian Contest Club
I really had a very enjoyable time, great to experience contesting from the other side of the pond. Conditions were very nice Friday evening with a few JA's right after the contest started and before the band faded. Saturday still good but a bit distorted later on and no JA opening. Sunday better again but sorrily had to leave at 18z already to catch my flight back to Germany (btw. also nice to experience the grey-line from above the sky

). Had I known before that I would be through check-in, baggage drop and TSA in under 10 minutes I certainly would have operated at least an hour longer.

 As I heard later from Carol 10 m had still been open 21.30z into all continents in parallel … wow!
Thanks again Carol! You were a great host!