Not very active after returning from holidays, QRL taking its toll. Besides this 6 and 4 m haven't been very active, too. There were a few openings but if I was there in the evenings I was either too close to or too far away from the ES clouds.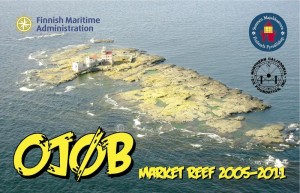 Worth to mention was a QSO with Joe, CT1HZE, on 4 m on Monday evening. He's at the southern most tip of Portugal at a distance of 2.505 km from here. That is normally too far for one ES hop so it was probably a double-hop QSO as he also worked shorter distances in parallel.
A nice surprise was OJØB on 2 m! Finish guys were on Market Reef to do some repair work on the OJØB contest station antennas and were joined this time by Jussi, OH6ZZ, a seasoned VHF guy, who wanted to do some EME and MS from the Reef. Although reflections were rather sparse I managed to catch them tonight for a new one on 2 m. Thanks guys!
Also a bit of tropo reported from the UK to Denmark and southern Sweden earlier this evening but not much overhere. Worked John, G4SWX, with a good 559 signal but he can be worked almost daily from here. So if at all it was just a very slight enhancement …